BENEFITS OF RELAXING YOUR NATURALLY CURLY HAIR
Posted 11 months ago on - Hair Care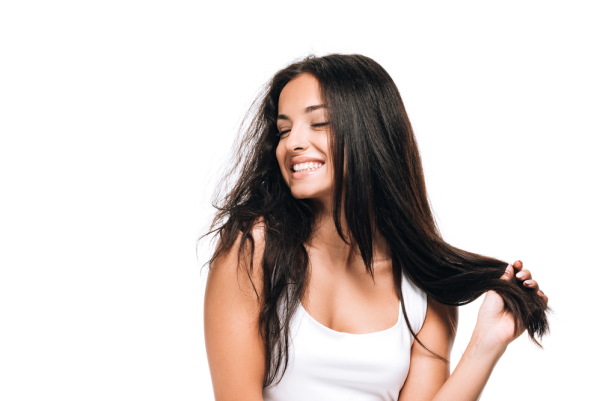 Have you ever noticed that it seems that the thing we want most is the thing we can't have? This is true of so many things in life, including our hair. Those with straight hair often long for curls, and those with curls often wish for straighter strands. Natural curls are beautiful, but they're not exactly low maintenance. If you're a curly girl who spends most of your styling time straightening your hair there is a semi-permanent option that you may not have considered – hair relaxers.
How They Work
Hair relaxers sound a bit intimidating at first, but it's a pretty simple process when you break it down. The composition and makeup of your hair are the result of chemical bonds on a molecular level. The makeup of these bonds determines your hair's texture. Hair relaxers weaken these bonds to allow the very protein and molecules of your hair to be reshaped and thereby change the texture.
What's The Process Like?
Getting your hair relaxed is not a particularly difficult procedure, but it's something that you really should leave to the professionals. DIY hair relaxers often cause scalp irritation and can result in a brittle and unmanageable mane. Your stylist knows exactly how to process your hair safely to give you the results you want.
You should arrive at your appointment with your hair clean and in its natural state. You'll want to avoid other chemical processes for a few weeks before your appointment, and your hair should not have been heat-styled within the last few days. Your stylist will first treat your scalp to protect it from the chemicals. Then they will apply the relaxer evenly to your hair. The straightening solution will be left on for a specific amount of time, usually about 10 to 15 minutes, and then it will be washed out and followed with a special conditioning treatment.
Benefits Of Relaxing Your Hair
If you're really tired of battling frizz and fighting with your curls you may be considering treating your coils with a hair relaxer at this point, but you might not be entirely convinced that it's right for you. Let's take a look at the benefits to help you decide.
Relaxed hair doesn't get as many knots or tangles because the relaxing process takes out most of the kinks and bends that would have caught on other hair to form a tangle.
Relaxed hair is faster and easier to detangle in addition to being less likely to tangle in the first place.
Relaxing your hair eliminates the need to stretch it. Natural coils kink up and shrink making it look much shorter than it really is. Relaxed hair lies long and smooth without all that hassle.
Relaxed hair stays straight and smooth even when wet and in high humidity rather than frizzing up like your natural curls are prone to do.
Relaxed hair is faster and easier to style because you don't have to go through the lengthy process of straightening your hair every time you wash it or get it wet.
A hair relaxer allows you to keep your straight strands much longer. A flat iron will last for a few days at best while relaxing your hair gives you weeks of smooth sleek hair.
If you find yourself wearing your hair straight more often than curly it's time that you consider a professional hair relaxing at The Full Spectrum Hair Salon. Our expert stylists will relax those coils while ensuring that your tresses remain healthy, soft, and manageable. Come see us at 305 E Farm to Market Rd 544, #911 in Murphy, give us a call at 972.509.1565 or download our free mobile app from iTunes or Google Play to schedule your appointment today.