GET YOUR BROWS IN SHAPE TO PERFECT YOUR LOOK
Posted 1 year ago on - Uncategorized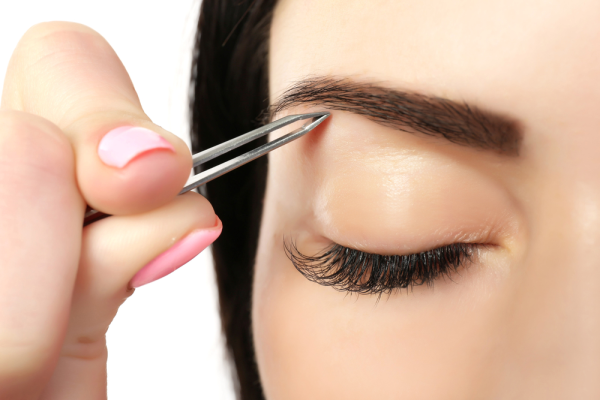 Eyebrows are one the most prominent and important facial features, yet they are the most often neglected. Properly groomed and maintained they help form the shape and structure of your face, and provide the perfect frame for your eyes. When they are unkempt or poorly shaped they can have the opposite effect and ruin your look. Professional salon eyebrow waxing can help make sure that is properly groomed and shaped to perfect your look.
Choosing Your Shape
Before choosing a shape for your brows, first, you need to know your face shape. When your brows and face shape compliments each other it creates a cohesive look that is well balanced and highlights your best features. Most faces fall into one of five shape categories- square, round, oval, heart, or diamond.
Square Faces – If your face is square it has a very angular structure, so the last thing you want to do is add more angles. Instead, ask for a softly curved brow with a high arch to soften the angles and create the illusion of a slightly longer face.
Round Faces – If you have a round face you'll want to avoid adding more curves to avoid a ball-like appearance. Sharply angled brows will provide structure to your face that contrasts the curves and balance your look.
Oval Faces – If your face is oval you have been blessed with a neutral face shape. Those with oval faces can pull off pretty much any brow shape they want. The only thing to avoid is high arches that could draw your face out and make it appear too long.
Heart Faces – Those with heart-shaped faces should avoid high sharp arches. Instead, you should opt for a softly rounded arch to help balance the angles of your chin.
Diamond Faces – Diamond-shaped faces present the biggest challenge when it comes to shaping eyebrows, mostly because diamonds come in so many different lengths. Your brows and the height of the arch need to be adjusted accordingly to balance the wide jaw angles while keeping the length of the face balanced as well. Curved arches are best for diamond faces with a low arch for a longer face and a higher arch for a shorter face.
Choosing Your Brow Style
Once the shape has been determined it's time to choose your style. Recent eyebrow trends have been towards more natural looks. Here are a few to consider.
Naturally Defined – This look is not untidy and bushy, but also not overly groomed. It's simply your natural brows with the edges cleaned up. Your brows' natural shape is maintained while giving them definition by removing stray hairs.
Lightly Filled – For a while, the trend was heavily filled and darkly stenciled brows, but with the trend towards a more natural look those heavy brows are a thing of the past. Only those with very thin sparse brows should fill them in with a pencil or powder and then use a light hand. You want just a hint of skin peeking through.
Classic Bushy Brows – This is an iconic look that may never fall out of fashion. If you were blessed with thick luscious brows, use them to your advantage to make a bold fashion statement. Just let your natural beauty shine!
Fluffy Brows – For those that weren't naturally gifted with bushy brows you can mimic the look with fluffed-up brows. Brow gel or wax can provide lift at the roots to fluff the brows and give them some texture.
Brow Slits – If you're feeling more adventurous go for some super trendy eyebrow slits. Thin strips shaved through the brow create an edgy, eye-catching effect. You can choose vertical or diagonal slits and add as many or as few as you'd like. The current trend is two diagonal slits on the outer edge of one brow.
If you're ready to perfect your look with expertly shaped brows come to see the creative team at  The Full Spectrum Hair Salon. We'll make sure your brows are perfectly shaped and styled to create just the right look for you. Come see us at 305 E Farm to Market Rd 544, #911 in Murphy, give us a call at 972.509.1565 or download our free mobile app from iTunes or Google Play to schedule your eyebrow waxing appointment today.