GREAT HAIR STARTS WITH A HEALTHY SCALP
Posted 9 months ago on - Hair Care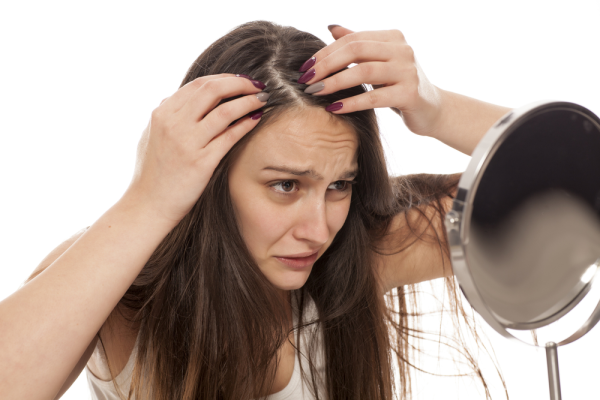 Do you want to know the secret to a great head of hair that is always shiny and healthy? Everyone does. It's something that both men and women are constantly searching for. Well, today we are going to share that secret with you. Great hair starts with a healthy scalp. After all, your hair is simply an extension of your scalp. So if your scalp isn't healthy, your hair won't be either. Thankfully there are a few simple things that you can incorporate into your regular hair care routine that will help keep your scalp healthy and your hair looking great.
Keep It Hydrated
In order to keep any part of your skin healthy you must keep it well hydrated, including your scalp. A dry scalp slows hair growth and in time leads to dry, brittle hair. Think about what happens if you forget to water a plant. To keep your scalp well hydrated make sure to drink the recommended 8 glasses of water every day and use a moisturizing scalp oil or treatment once per week.
Keep The pH Balanced
Some shampoos and conditioners are harsh and can disrupt the pH balance of your scalp and hair. Your scalp needs a pH of 4-5. If it's more alkaline your follicles will open and lose moisture over time this leads to a dry flaky scalp and dry brittle hair. A proper pH will keep those follicles closed to lock in moisture and keep your cuticle smoother softer, smoother hair. Your stylist can recommend products formulated for your hair type that will help maintain a proper pH level for your hair and scalp.
Don't Strip Your Natural Oils
Most people are shampooing their hair far too often. Many believe that you have to shampoo daily to keep your hair and scalp clean and healthy, but most people only need a shampoo once or twice each week. Shampooing too often strips all of the oils and sebum that your scalp produces to protect and moisturize both your scalp and your hair. So cut back on shampooing to leave those natural oils in place, and use dry shampoo sparingly as needed to freshen up between wash days.
Exfoliate Your Scalp
Your face isn't the only part of your skin that needs exfoliation. Buildup happens on your scalp as well. Dead skin, dirt, and styling product residue can build up over time and block your pores and hair follicles. When they stay blocked for too long you end up with things like itching, dandruff, and even hair loss. Use a gentle scalp exfoliant once a week to help keep the buildup at bay and your scalp clean and healthy.
Give Yourself A Daily Scalp Massage
Daily scalp massages are a must for maintaining a shiny, strong, healthy mane. Massage stimulates the circulation to increase blood flow within the scalp and with increased blood flow comes vital oxygen and nutrients to promote healthy hair growth. Just use the pads of your finger, never your fingernails, and work in circular motions all over your scalp for 2-3 minutes a day. You can do this as soon as you get up just before brushing and styling your hair. Add a nourishing scalp oil to your massage once per week to maximize the effects.
Give Your Scalp Some Protection
The skin on your head is quite delicate and needs to be protected from the elements. Damaging UV rays, temperature extremes, drying winds, and harsh chemical treatments can take a toll over time leaving your scalp dry and damaged. To protect your scalp from UV rays and harsh elements, cover your head with a hat or scarf when going outdoors and apply a scalp SPF when spending extended periods of time in the sun. Limit harsh chemical hair treatments and ask your stylist to use the most gentle option. Avoid hot water in the shower and heat styling whenever possible as both can dry out your scalp.
It's important to take good care of your skin, including your scalp. It's your body's first defense against infections. And it protects you from pollutants and toxins in the environment among many other functions. In the case of your scalp, it also keeps your hair beautiful and healthy, and this is why great hair starts with a healthy scalp.
Our goal here at The Full Spectrum Hair Salon is to help you have the healthiest hair and scalp possible so that every day is a great hair day. Give us a call at 972.509.1565 or download our free mobile app from iTunes or Google Play to schedule your appointment today. We look forward to seeing you soon at 305 E Farm to Market Rd 544, #911 in Murphy.