OUIDAD SERVICES- DEMAND THE BEST FOR YOUR CURLS
Posted 1 year ago on - Hair Care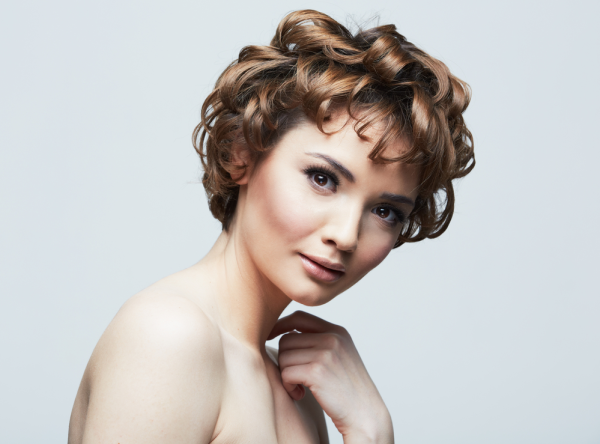 Curly styles are trending high going into this fall and winter season, and for very good reasons. Curls add interest and a unique flair to any style. Whether natural or permed curls can present some unique challenges in the colder months, but with the right cut and the best care you can easily manage your curls and keep them looking fabulous no matter what the weather throws at them. This is why you need to demand the best care for your curls, and our Ouidad services will give you just that.
A Different Way of Cutting
If you're a curly gal who's been disappointed with your styling, it's probably because you've been allowing someone that doesn't understand curly hair to work with your curls. Cutting curly hair requires a different technique than cutting straight hair because each head of curly hair has its own unique curl pattern. An Ouidad-certified stylist uses a specialized cutting technique that creates strategic layers to shape your mane, removing bulk and adding movement where needed, all the while giving you well-defined curls in a cut that is perfect for you.
This unique cutting technique was developed by a stylist who faced the same challenges you do with her own curly hair. She set her own rules for cutting curls that take into account each individual curl and its pattern to make sure their full beauty shines through. She also developed her own line of products formulated specifically to meet the needs of curly hair, opened her own salons, and eventually instituted a training program to certify other stylists in her revolutionary curly hair care techniques.
Deep Conditioning Treatment
Your curls also need extra conditioning, and specialized conditioning treatment is another of the Ouidad services that will leave your curls feeling super soft and silky. This treatment is a service customized by our Ouidad-certified stylists to meet the individual needs of each client's hair. This is an important part of curly hair care because curls that are well hydrated are softer and look more defined to help your new style look its best. And in the colder months proper conditioning of curls is imperative to replace moisture lost to dry cold air outdoors, and dry heat indoors.
Trending Curly Fall Styles
Asymmetric Bob- If you're looking for a short style to showcase your curls an asymmetric bob is a great way to show them off. Stop straightening your hair every day and let your curls work for you.
Curly Fringe- Many with curly hair shy away from bangs. They fear they will shrink into micro baby bangs and that it will be a constant battle to keep them stretched. However, in the hands of an Ouidad stylist, you can have a curly fringe that looks perfect without stretching.
Undercut- This is an edgy look that is becoming more and more popular for curly hair. There are many versions you can try from an undercut on only one side, to a low undercut all around or even a high fade undercut. Play around with the length on top to get just the look you want.
Curly Layered Lob- A little longer than a bob, this curly lop incorporates layers to reduce bulk and poof, while displaying your curls at different levels so they all get their moment in the spotlight. A lob is a perfect length to leave you with more options for gorgeous updos when the occasion calls for them.
.If you're tired of searching for someone that understands curly hair and how to cut and care for it to make it look gorgeous, come to our Ouidad-certified salon. Here at The Full Spectrum Hair Salon, our stylists know how to treat your curls right to create a style that gives you effortlessly beautiful curls. It's our goal to help you learn to love your curls again! You can find us at 305 E Farm to Market Rd 544, #911 in Murphy, or call 972.509.1565 to book your hair services appointment. To manage your appointments right on your mobile device, download our free app on iTunes or Google Play